The LPN to RN Diploma program provides a direct path for individuals with a current LPN license to become a registered nurse.
Hands-on training from experienced professionals

Small class sizes in a cohort format

Complete the program in 12 months!

Classes meet 3 days per week

You can still work while attending classes!

Receive a nursing diploma from UVCC

Sit for the NCLEX exam upon program completion

A pathway to bachelor's degree is available through Muskingum University
UVCC also provides:
Assistance from career advisors

Access to opportunities with local healthcare networks
Assisted Living Communities

Hospitals and Medical Centers

Home Health and Hospice Care

Long-Term Care Facilities

Rehabilitation Centers

Doctors' Offices

Clinics

Life Plan Communities
Registered nurses earn a median hourly wage of $36.22.*
Graduation and Employment Rates based on ACCSC's Annual Report for 2022
New Program (Data is not yet available for the first cohort)
BOE Approved LPN to RN Student Handbook
12 months (46 weeks), 900 hours total

Classes 3 days each week

Academic terms

1A - 11.5 weeks

1B - 11.5 weeks

2A - 11.5 weeks

2B - 11.5 weeks

There will be vacation time and holidays allotted at various times during the program.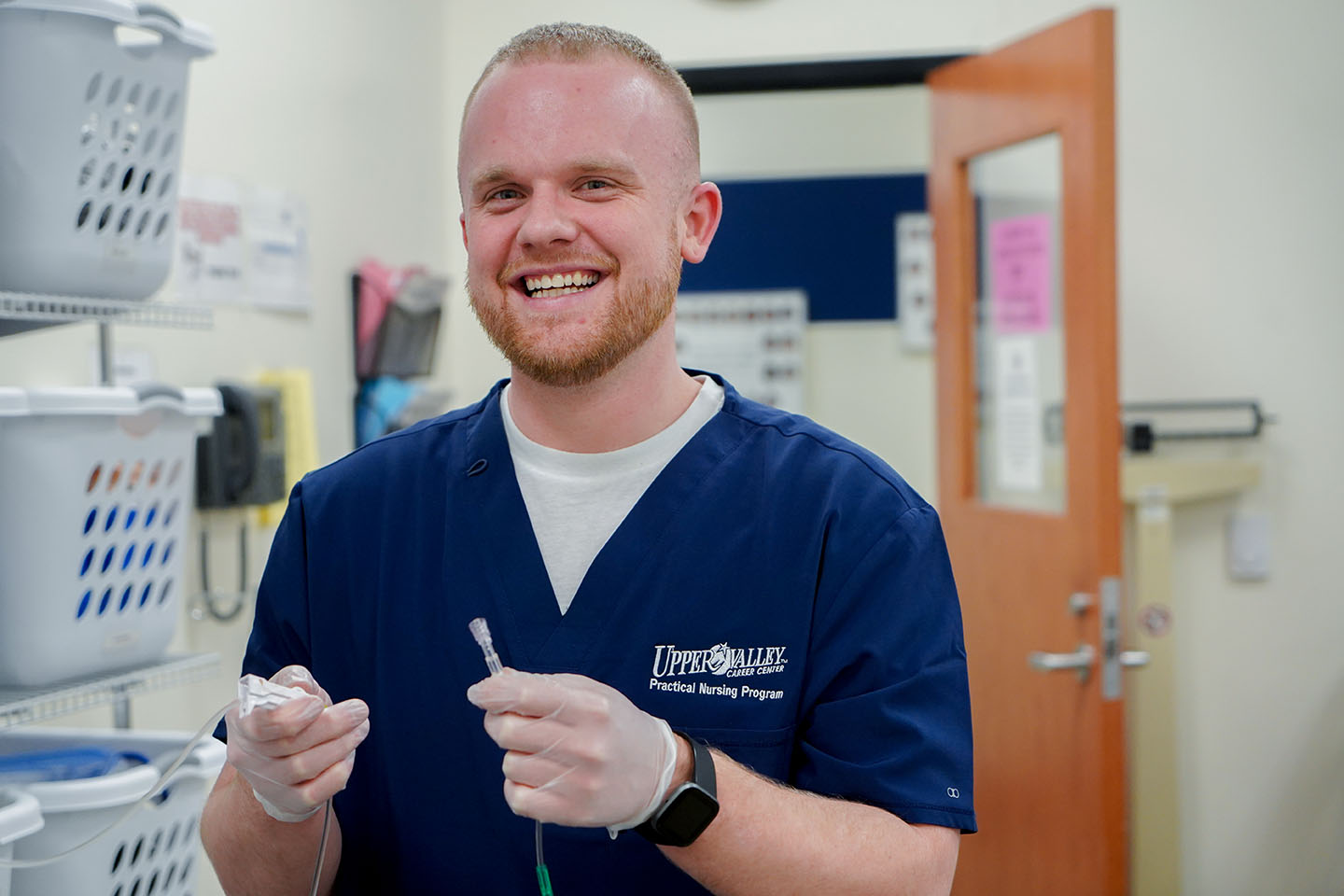 Frequently Asked Questions
Do you have to be an LPN before enrolling in the program?
Yes. Our program is an LPN to RN program and you need to be an LPN prior to joining the program.
I am not an LPN. How do I become an LPN?
We offer a Practical Nursing program and would be glad to help you get started.
Did I have to get my LPN at UVCC?
No. All that is required is that you are an LPN with a current license.
Is there a waiting list?
Yes. If you would like to be added to the list, please click the connect link on this page to be added to the list.
What is the cost of this course?
Tuition is $13,310 for the program. Financial aid is available to those who qualify.
How long is the LPN to RN program?
The program is 12 months long.
What will an average school week look like?
Students will spend two days per week in the classroom and one day participating in clinicals or lab.
What's the difference between an RN Diploma and an RN Associate?
When you complete our LPN to RN Program, you will take the same NCLEX, however you will have a diploma, not an associate degree.
Can I get my bachelor's degree if I go through this program?
Yes. There is a pathway for you to get your BSN through Muskingum University.
Don't put your future on hold for another day. Connect with us to get more details and see how you can begin your path towards your practical nursing career.