Students receive hand-on experiences with:
Infants: 0-12 months

Toddlers: 18-36 months

Preschoolers: 36-60+ months
Courses: Health, Safety, and Nutrition; Curriculum and Instruction

Days with Children: Tuesdays (2 - 3 years); Wednesdays and Thursdays (3 - 4 years)
Courses: Early Childhood Education Principles; Observation and Assessment

Days with Children: Tuesdays, Wednesdays, and Thursdays (4 - 5 years). Seniors will also have other child-focused opportunities throughout the program
Early Childhood Centers in Miami County

On-campus trip with preschool students

Outside trips based on children's activities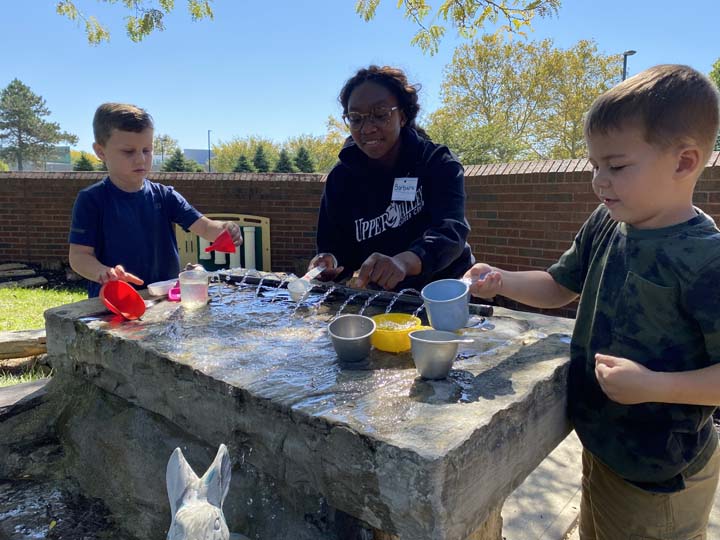 Create, plan and implement developmentally appropriate and open ended learning experiences.

Prepare record and document authentic assessment for young children in the preschool lab.

Prepare themed units of learning experiences and implement them with children.

Lead and manage large group circle and storytime experiences.

Lead and manage the preschool routine from drop off to pick up. Students will manage peers and children during this time.

Actively participate in child development skill events as a member of FCCLA.

Plan and create resources, modeling materials, props, and nutritious snacks for young children in the lab.

Plan family events for the children and families in the preschool lab.

Provide developmentally appropriate guidance for young children in the preschool lab.
Work as part of a team to provide good quality learning experiences that promote creativity, discovery and exploration.

Be a responsive and flexible role model for preschool children in the lab.

Acknowledge and respond to young children's needs and find appropriate strategies to meet them.

Give clear and appropriate directions and instructions.

Communicate and interact with children, parents, and teachers while operating a state-licensed preschool.
" I love that this program gives me more experience with children and teaches me how to become a great teacher when I graduate. I love working with children and watching them learn new skills and grow throughout the time they are with us."

Child Care Center Teacher Assistant

Family and Home Child Care Provider

Elementary Teacher Assistant

Infant/toddler Teacher Assistant
Locally Early Childhood Centers are in need of credentialed employees so that qualification requirements can be met for Step Up To Quality. Pay ranges from minimum wage (with a HS Diploma) to $11.00 with a CDA.
Employment of preschool teachers is projected to grow 10 percent from 2016 to 2026, faster than the average for all occupations.
- Bureau of Labor and Statistics, April 2018
Work-Based Learning Opportunities
Students who qualify have the opportunity to participate in one of three options for career development during their senior year. All three programs allow students to work within their career field while attending school on a modified schedule, so you they gain skills, experience and competitive wages. Learn more here!
College & Advanced Education

Edison State Community College

Clark State Community College

Hocking College
Child Development Associate Credential (CDA)
Volunteering & Partnerships
Mothers of Preschoolers Group

The Upper Valley Career Center's Early Childhood Education and Care program operates the state-licensed preschool for children ages 2 - 5 years old under the direction of one vocational teacher and two paraprofessionals.

The preschool is licensed by the Department of Education and aligns with the State of Ohio's Early Learning Standards. ECEC students gain experience working with young children by planning and implementing the preschool curriculum.