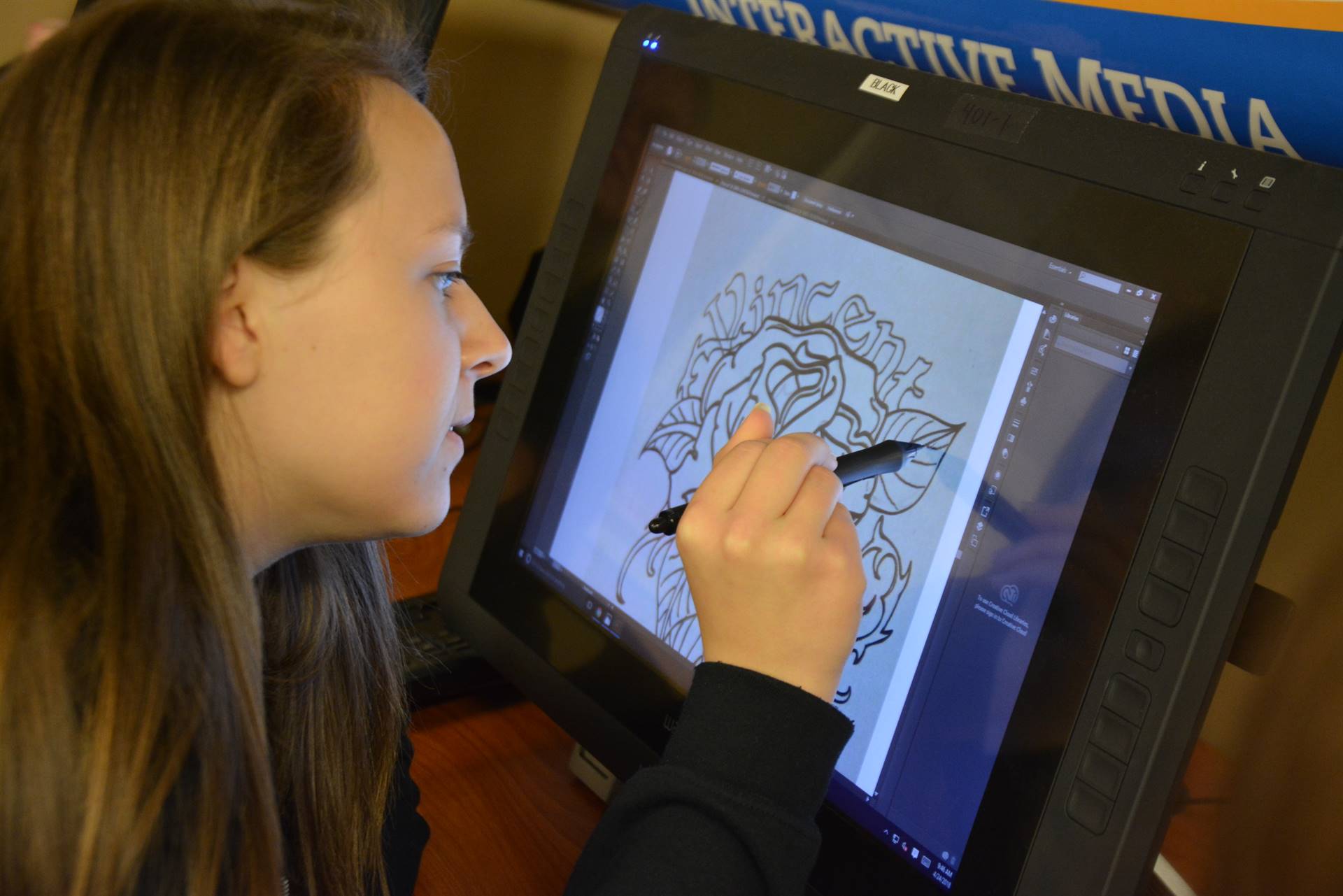 Interactive Media prepares students for careers using multimedia technology - developing online products for business, training, entertainment, communications, and marketing. Students gain the necessary technical and academic skills to create, design, and produce interactive media products and services.
Conceive, design, layout, and manipulate digital/print graphics

Adobe Software: Photoshop, Illustrator, Dreamweaver, InDesign, and Animate
Students will work with photography equipment to create, edit and publish works to be posted on the Web.
Dreamweaver Graphic Design

Utilize creative animations, graphics, audio, and visuals to develop, program, and launch websites
Best practices on utilizing social media for marketing and promotional needs.
Exceptional students may be ready for employment at the end of two years. Most students require additional training at a two-year tech school or post-secondary education.
Students will learn techniques for transforming photographic images, through use of digital cameras, computers, and mobile devices. To accomplish this, they will learn software photo editing techniques including layering, color correction, masking, and special effects using current commercial and open source programs and applications.
Students will apply principles of image creation, management procedures, and multimedia techniques as they create, revise, optimize, and export graphics for video, print, and web publishing. The course will address issues related to web based publishing, social media, and security. Students utilize Adobe CC and open source languages, programs, and applications.
Students will animation and storyboarding techniques to plan production of an animation project. Students will design from script and storyboard actions in the pre-production planning process. Students will use commercial and open source digital animation software to create finished animations, cartoons and other short movies. They will accomplish this using animated text, character movements, voice, background sound, sound effects, camera movements, and multiple scenes.
Creating and Editing Digital Graphics
Students learn to design, develop, and produce interactive media projects, web sites, and social media contexts. Students will demonstrate methods of creating professional quality media using commercial and open source software.

Adobe Certification Exams
College Credit Agreements
Edison State Community College

University of Northwestern Ohio

Clark State Community College