What We Do in Auto Collision

Learn to assess structural and non-structural damage and repair needs.

Develop skills to repair, paint, and replace damaged vehicle bodies.

Work with metal, glass, and plastic exterior components.

Repair and replace interior vehicle components.

Gain experience working with paint and refinish systems.

Learn and practice basic welding skills.

Enhance your skills to prepare for a high-demand career pathway.

Understand and work with plastics and adhesives

Participate in SkillsUSA events and contests

Work on client projects, solving real-world problems and scenarios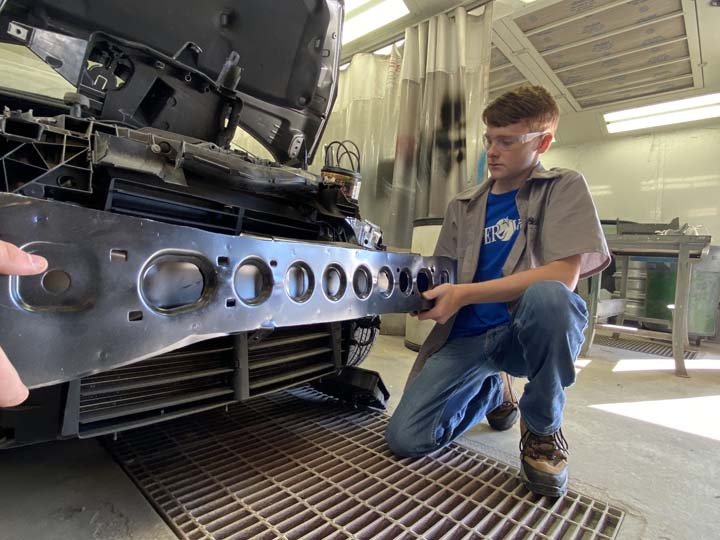 Auto Collision Repair Technicians are in high-demand. There are many career pathways in this field as your skills grow - including shop ownership.
"I have had many of Mr. Anthony's students work for me over the years and even now a large percentage of my employees are Upper Valley graduates. These students are some of the best employees that I have ever had!"

- Tom Martin
Owner of Piqua, Troy, & Sidney Body Carstar
Auto Body Technician

Parts and Paint Clerk

Glass Installer

Painter

Detailer

MIG Welder

Body Shop Supervisor

Glass Company Manager

Insurance Adjuster

Frame Straightener
Students who successfully complete the program are eligible for A.S.E. and I-CAR Certification testing.
Work-Based Learning Opportunities
Students who qualify have the opportunity to participate in one of three options for career development during their senior year. All three programs allow students to work within their career field while attending school on a modified schedule, so you they gain skills, experience and competitive wages.