What We Do in Electrical Trades

Electricity is a very valuable resource, and learning to respect and use that power properly is the basis of the Electrical Trades program.
Read blueprints and electrical layouts

Practice electrical safety procedures

Install residential & commercial wiring

Use electrical test equipment

Layout and install circuits

Install electrical devices

Troubleshoot electrical problems

Install electrical services

Bend and install conduit

Troubleshoot electrical circuitry on machines

Install motor controls

Wire motor control/safety device circuits

Understand programmable controller principles

Understand principles of computer controls
You will learn and practice these and many more skills that employers are look for:
Ability to work in a team structure

Ability to make decisions and solve problems

Ability to communicate verbally with people inside and outside an organization

Ability to plan, organize and prioritize work

Ability to obtain and process information
(Source: National Association of Colleges and Employers )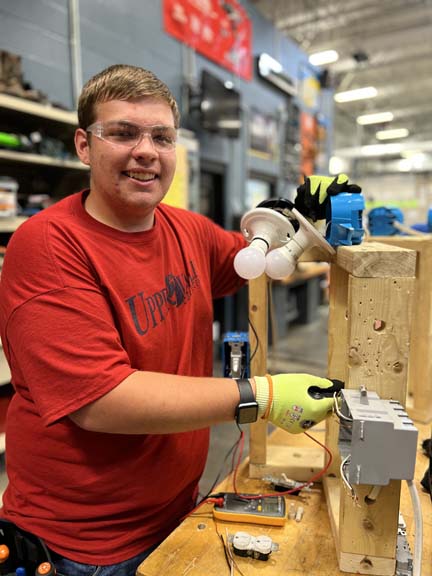 Construction is the largest industry in the US. This program prepares you for a diverse range of careers.
Security Systems Installer

Computer Network Designer/Installer
Edison State Community College

Sinclair Community College
Senior PM/Estimator $75,000 - $95,000/yr

Project Manager $50,000 - $75,000/yr

Estimator $45,000 - $75,000/yr

Foreman $25.00 - $35.00/hr

Journeyman $20.00 - $25.00/hr

Apprentice Level 1-4 $14.00 - $20.00/hr