Students become skilled specialists that create, install, and maintain healthy, comfortable environments where people work, shop, and live. These heating, air conditioning, and refrigeration skills are developed through hands-on experiences in our spacious lab with the most up-to-date technology and equipment.
Understand residential and light commercial heating, ventilating, air conditioning, refrigeration, and DDC controls.

Learn the science of refrigeration technologies.

Develop skills through hands-on experience with the latest technologies.

Become familiar with environmental controls systems.

Troubleshoot heating and cooling system failures.

Work with sheet metal and learn soldering and brazing skills.
The Upper Valley Career Center HVAC/R program is NCCER (National Center for Construction Education and Research) certified and nationally recognized for excellence and innovation.
Science of Refrigeration

Sheet Metal

Soldering and Brazing

Electrical Wiring (High and Low Voltage)

Control Systems

Heating and Cooling Repair

Soft Skills

Workplace Safety
Typical Yearly Field Trips
Hobart Arena (Ice Making)

Slagle Mechanical

Rieck Services

Sheet Metal Workers Local 24

Helix Innovation Center at Emerson Climate Technologies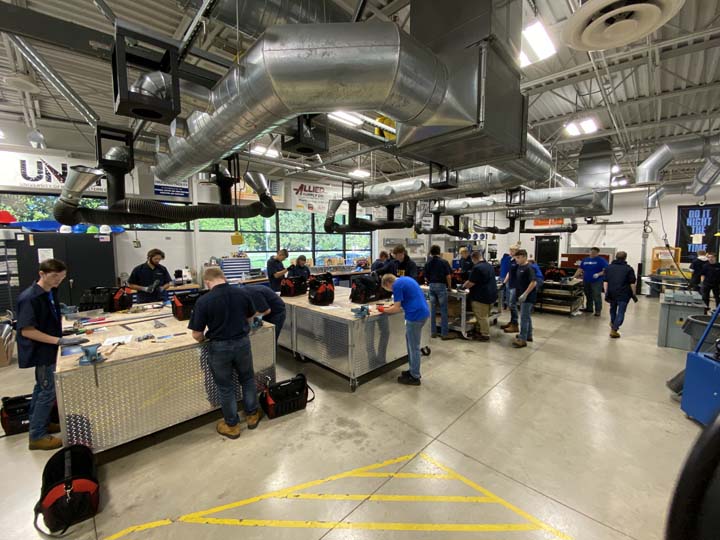 Service Technician

HVAC/R Installer - Commercial, Industrial, residential

Apprentice

Sheet Metal Worker

Controls Technician

Computer Programing

Research Engineer

Equipment Sales

Warehouse Sales

Estimator

HVAC/R Systems Designer

Business Owner
The HVAC/R industry offers a wide variety of occupations, good benefits, and excellent pay.
Beginning HVAC/R technicians can expect to earn over $45,000 a year

Seasoned technicians, contractors, or engineers can earn up to $100,000 annually.
Source: ARI (Air Conditioning and Refrigeration Institute)
The HVAC/R industry is expected to grow by 33.7% in the coming years

34.4% of the current HVAC/R workforce is expected to retire in that same time period.
Source: Bureau of Labor Statistics
Work-Based Learning Opportunities
Students who qualify have the opportunity to participate in one of three options for career development during their senior year. All three programs allow students to work within their career field while attending school on a modified schedule, so you they gain skills, experience and competitive wages.
College & Advanced Education

Sinclair Community College

University of Northwestern Ohio

Edison State Community College - up to 18 semester hours
608 EPA Certification

Direct Digital Control Certification

Skid Steer Certification

10 hour OSHA Certification

Lockout/Tagout Certification

NATE Certification