Learn the major concepts of the graphic arts & communication industry.

Work with outside clients to design and complete their order.

Become proficient in using Adobe Design software for design.

Practice printing techniques like digital, offset, two and four-color printing.

Set-up and operate printing equipment.

Screen print t-shirts and other materials.

Design and develop signage projects.

Create, print, and apply vinyl graphics
First-year students develop basic skills in:
Offset Printing

Set-up and Operation of Printing Equipment

Tool Use

Computer Skills, Including Adobe InDesign
These skills are demonstrated through classroom assignments, printing projects, and competency testing.
Second-year students work with:
Patronage Accounts

In-house Printing

Screen Printing

Two and Four-Color Printing

Computer Design using Adobe InDesign, Photoshop, and Illustrator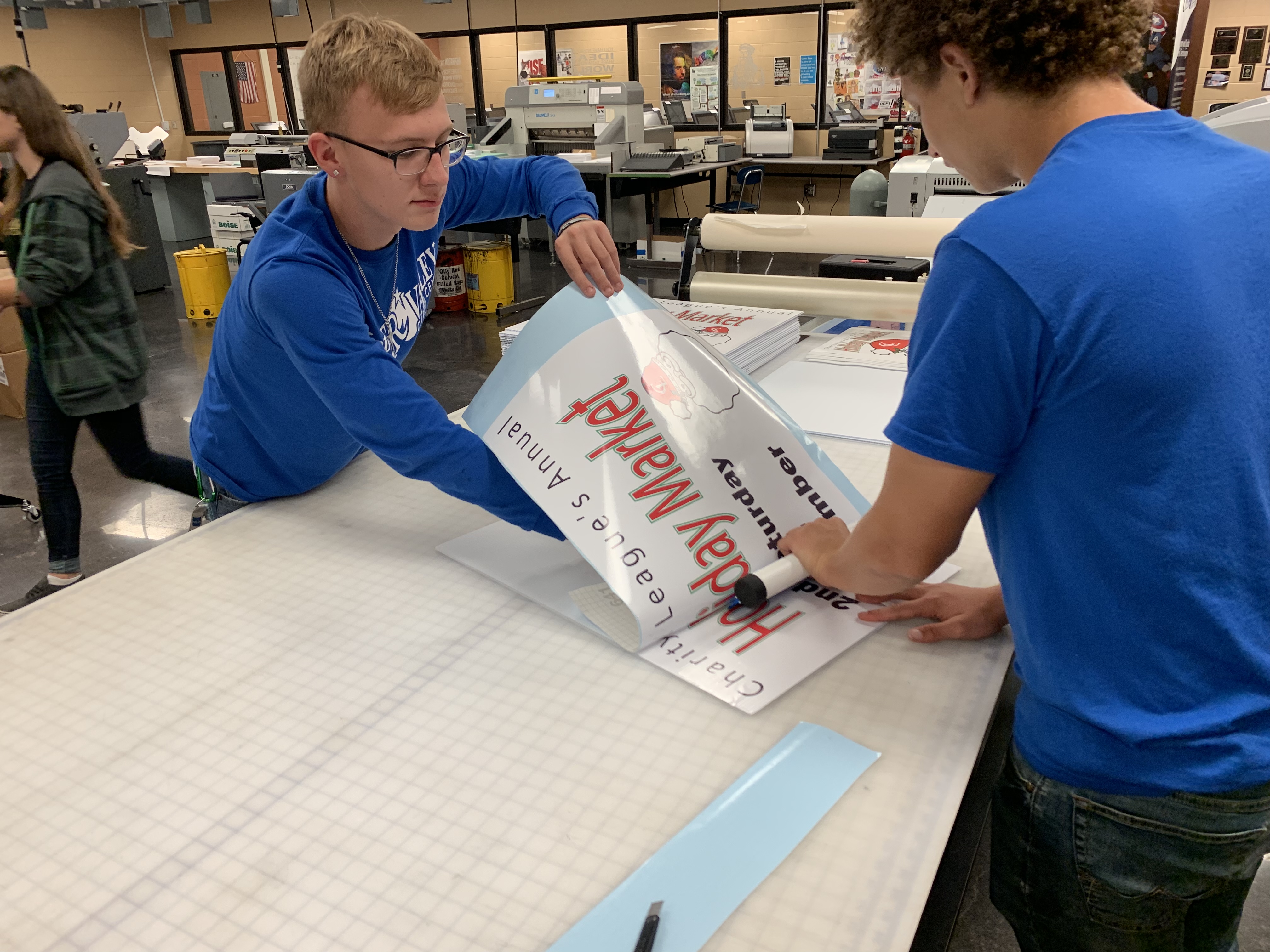 There are many avenues that you can pursue after the DDPT program. Here area a few industries and companies where our students have found employment.
Publishers

Packagers

Paper and Ink Makers

Sign Companies

Equipment Manufactures

In-house Design and Printing Departments: Corporations, Banks, Universities, Hospitals, and even Retail Operations
The on-going demand for printed products and constant advances in technology have increased the number and variety of careers available within the industry. Employees are currently needed in all areas:
Graphic Designer: $21.16 - $26.26/hr | $54,620/yr
Advertising & PR Services: $24.60 - $25.92/hr | $53,900/yr

Printing Press Operator: $20.14 - $29.96/hr | $61,520/yr

Customer Service: $14.39 - $22.36/hr | $46,510/yr

Bindery Operator: $15.49 - $28.03/hr | $58,300/yr

Pre-press Technician: $17.36 - $25.15/hr | $53,500/yr
Work-Based Learning Opportunities
Students who qualify have the opportunity to participate in one of three options for career development during their senior year. All three programs allow students to work within their career field while attending school on a modified schedule, so you they gain skills, experience and competitive wages.
College & Advanced Education

Advanced Educational Opportunities
Over 120 schools offer post-secondary Graphic Communication programs, covering everything from internships to one, two, and four-year degrees. Area schools with these programs include
Sinclair Community College

Bowling Green State University

Clark State Community College
Scholarship Opportunities
Print and Graphics Scholarship Foundation

Printing Industries of America
Certifications & Credentials Available

Home of Skills USA Champions
The 2015, 2016, and 2017 State Champions and National Finalists were from this in-demand program.
A total of 20 students have won medals at state SkillsUSA graphic communications and leadership contests, and 6 students have competed nationally!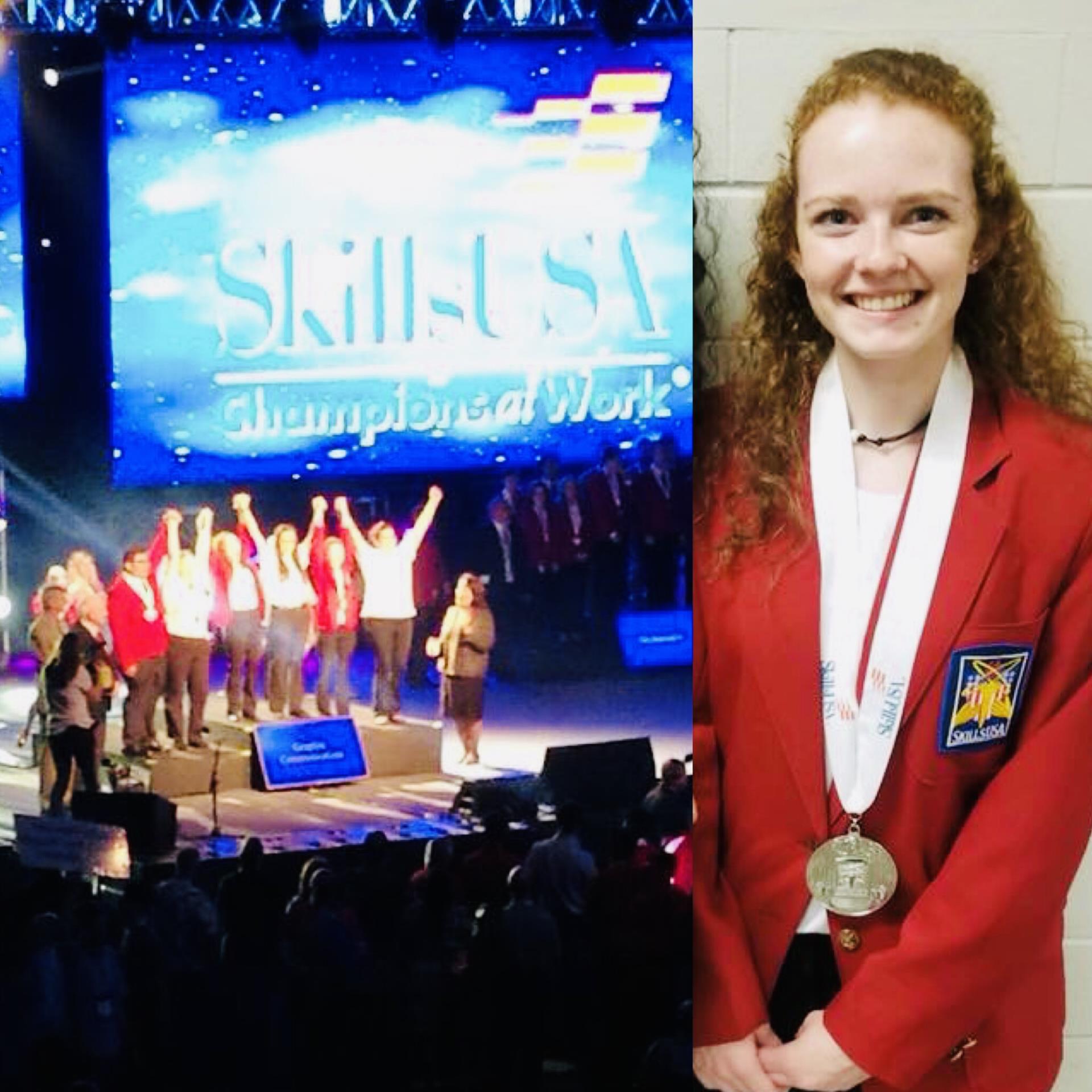 Christina Crosby was the National Runner-up in Graphic Communications at the 2018 Skills USA Competition!